Whether I am doing multiple makeups for a large bridal party, dolling up several celebrities for TIFF or doing face after face for Toronto Fashion Week, I always make sure to have plenty of brushes to go around.
As you can see I have a few 😉
I prefer to retire a brush once it's been used for the day and I will wash/sanitize it thoroughly at night.  I find quick brush cleansing in between clients is not always feasible and I also find my brushes don't perform the same when they have brush cleanser in them.  Most of my brushes are from MAC Cosmetics as they make quality brushes that are consistent so they're an easy 'go-to' for me.  It takes a special brush to break into the lineup and become a staple in my brush belt – Enter Sigma!  I had heard about Sigma brushes from other artists who have raved about them, so I was really excited when I received one of Sigma's top selling brushes-The E45 Small Tapered Blending Brush – to try out.
It has a small tapered head with a precisely pointed tip.  This brush is great for adding colour into the eye crease allowing lots of control over placement.  With the firmer bristles of this brush it also prevents a lot of fallout which can happen with a more fluffy blending brush.
My first impression of the brush was the quality.  Just holding the brush I had to take note of the craftsmanship.  The synthetic brush hairs are super soft which is always important for the comfort of my clients-nobody wants to have a scratchy bristled brush touching their eyes!  The ferrule of the brush has a patented 3 crimp technology which will ensure the brush will stay intact which is important whether it's being used for personal use or on my clients.  And lastly the wooden handles have 8 coats of paint, making them scratch & chip resistant.
This all sounds fancy and intriguing but the true test is how does this brush preform?  Like any product/brush that I want to add to my professional kit I must try it out on myself first.
Here is what I found:
1. The brush hairs picked up my eyeshadow product nicely.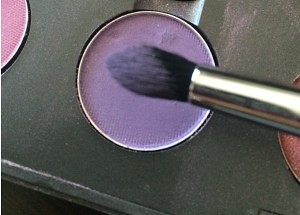 2. The small brush tip fit perfectly into my eye crease making it foolproof to sculpt my eye and the brush hairs felt really soft.
3. When I washed the brush it was easy to remove all the product and the brush did not shed.
4. Once the brush dried after I washed it, it had retained its original shape.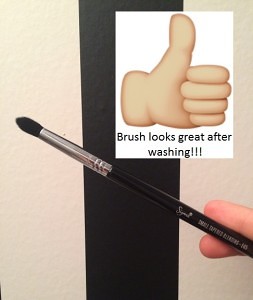 Overall I really loved this brush from Sigma and I plan on adding more of their brush collection to my brush belt.  I might even have to pick up a few for my personal makeup bag 😉
I would give The Sigma E45 Tapered Blending Brush a 5 out of 5!!!!  My highest rated product yet!
You can see the full selection of Sigma brushes at Obsessed Canada.
Obsessed Canada also offers free shipping with no minimum on all Sigma brushes!
Happy shopping 😀
XOXO J9