Well I can cross this goal off my list….last week I got to be a featured Makeup Expert on the popular talk show The Social!
I talked about the hottest makeup trends seen on the red carpet at the Toronto International Film Festival. It was my first time ever having to speak and demo on live TV.  To say I was nervous would be an understatement.  I totally blacked out and barely remembered what I said, I went into total auto-pilot!  It was pretty exciting to sit down later that evening and watch the segment with my husband and kids.
You can watch the segment here———–> Fav. makeup trends from the TIFF Red Carpet
I wanted to break down and spotlight all the products I used on my models.
Bold Colourful Liner Trend:
Pencil-Wild Coral Edge Liner from Annabelle
Expensive Skin Trend:
Makeup Spray-Tatcha Dewy Skin Mist
Highlighter-Charlotte Tilbury Bar of Gold Palette
Invisible Eyeliner Trend:
Eye Pencil-Graphblack Technakhol Liner from MAC Cosmetics
Classic Red Lip Trend:
Lip Plumper-Grande Lips Plumping Gloss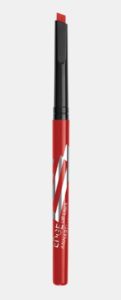 Lip Liner-Showstopper Edge liner from Annabelle
Lip Colour-Kiss Me Pillow Pout Lip Plumping Powder from Buxom
Dramatic Eye Trend:
Lashes-KISS Blowout False Lashes in the style PIXIE
Tweezers-Revlon Pro Point Tweezers
And since I have been asked about what I wore I figured I should include that as well:
Lashes-LASH COUTURE FAUX MINK COLLECTION – BOUDOIR
Tassel Earrings-Accessories by Talia
Dress-Lip Print Dress from Amazon (only $20)!!!
I had a nice big cocktail after the show in celebration of a great segment….so cheers to many more!
XO J9