BOO!
Its that time of year again and I'm getting super excited about all the fun makeups I will be doing for Halloween.  If its anything like last year I will definitely be pumping out some Mexican Sugar Skulls!
My inbox has been flooded with people looking to have their faces painted like the Day of the Dead…unfortunately I have been booked solid for Halloween since about June!  That is what made me decide to do a simple 'how-to' that anyone could follow.
But before I walk you through the steps of an awesome looking sugar skull I wanted to share with you some of the fun makeups I did last year to help inspire you and to get you into the Halloween spirit!
Here is a Devil-complete with horns and pointed ears:
And my adorable niece Ruby that I turned into Draculaura from Monster High:
A Venom bodypaiting that looked pretty damn cool once I was done!
and lastly my Crystal Adorned Mexican Sugar Skull that I will teach you how to recreate!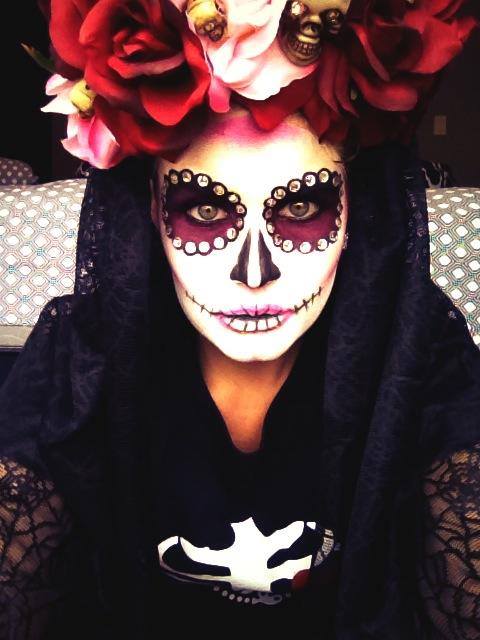 Now lets get started!
Firstly here are the key products I used:
Pure White Chromacake from MAC-I just used water to activate it
A water-proof eyeliner, Engraved Powerpoint from MAC
Funky lashes
Flat-backed Crystals *I just got mine from the craft section at Dollarama
Step 1:
Map out where you want the two eye cut-outs to be.  I just used a nude pencil but you can use white or black too.  You can also map out where you would want your nose cut-outs to be.
Step 2:
Fill your entire face in minus the cut-outs using Pure White Chromacake.  I just used water to activate the product.  If you have more of an oily skin type you can add some invisible set powder on top.
Step 3:
Contour your cheeks, forehead, under your nose and chin using a fun bright colour-I used Azalea Pro Blush from MAC.  Any medium sized contour brush would work fine.
Step 4:
To create the scalloped effect around the eye cut outs I used the #252 brush from MAC that was the exact size I wanted the scallops to be.  I then put a good amount of Blacktrack Fluidline on the flat side of the brush and dragged it towards the center of my eye.  Continue this action until the entire eye cut-out is framed with scallops.
Step 5:
To create a more 3-dimensional look I added Fushia Pigment on top of the black.  I rimmed around my eyes then eventually faded it out before the scalloped edges.
Step 6:
To define the eyes even more I lined the inner rim using Engraved Powerpoint Liner.  And then I used the black pen liner from Essence to rim the outside of my eyes-both top and bottom.
Step 7:
I added some funky lashes on top.  Have fun with this and opt for fuller, more dramatic lashes for a really 'wow' effect.
Step 8:
To complete the eyes I strategically placed flat-back crystals (with a dollip of spirit gum on the back) inside each of the scallops.
Step 9.
Now the nose cut outs.  I used Blacktrack again and I traced out 2 triangle shapes on the side of my nose and filled them in so they were solid black.
Step 10:

To define the lips I traced around the outer edge of my lips using the same colour I used to contour my face.
Step 11:
And lastly I placed stiches on my lips using Blacktrack and the #209 brush.  I also used the black to shade in the center of my lips.
And Voila!!!  There you have 11 simple steps to create a sparkly, pretty, yet spooky looking Mexican Sugar Skull!
Happy Halloween!
XO J9