On the 12th day of Christmas J9 gave to me…A Shoppers Drug Mart Gift Card!!!
So let's say you aren't sure if that special someone would love the 11 other Beauty products I recommended…or that you are buying for a beauty junkie and they already have everything I have suggested.  A perfect solution is to get them a Shoppers Drug Mart Gift Card so they can pick out their own beauty treats!
Here is what I love about the gift card:
You can fill a card from $5-$200
Can be used on anything sold at Shoppers Drug Mart
Super easy but more thoughtful then just cash
Shoppers Drug Mart stores are everywhere-all across Canada, even the Yukon!
Easy to throw into a card and mail to that special someone
Whenever I have a guy friend that can't figure out what to get their sister/mother/Auntie or the girl that they got as a secret Santa at the office, I always tell them to pick up a Shoppers Drug Mart gift card-you can't go wrong!
And lastly the part I love most is when you buy a gift card you can collect the Shoppers Optimum Points for the dollar amount and then when the recipient spends the gift card they too will receive the SOP for their purchase so everyone wins!!!  YAY!!!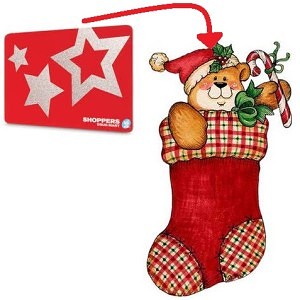 I hope you enjoyed my 12 Days of Beauty Stocking Stuffers.  Have a Holly Jolly Christmas and a Fantastic New Year!!!
XO J9 HO HO HOmie