On the 7th day of Christmas J9 gave to me…Covergirl Full Lash Bloom Mascara!!!
One question that I love to ask my clients is what is their favorite mascara?  I'm always on the hunt for the perfect mascara.   I feel like I have tried hundreds of different brands and formulas.  But something always has me going back to the Covergirl family of mascaras.  I find them the best on the market!  My Covergirl mascara of choice for the last little while has been the Full Lash Bloom Mascara.
Here is what I love most about it:
Formula is flexible with no flaking
Doesn't clump
Lengthens and thickens the lash
You can layer this mascara while still wet to really achieve the volume you would like
The molded brush separates lashes perfectly
No under-eye smudging
Lasts all day but still easy remove with a regular cleanser
The black is rich and dark
Smaller bristles on the wand allow you to get nice and tight into the lash line
reasonable price point for a product that needs replacing every 2 months
I use the waterproof version on my bridal clients to prevent smearing on their wedding day!
You can find this fab mascara at Shoppers Drug Mart for around $10.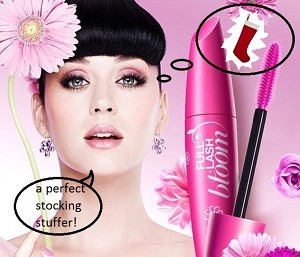 Katy Perry approved!
XO J9 HO HO HOmie