Another review folks-this time for a new innovative hair brush called the Original Tangle Teezer.  Now I must admit that I had seen this brush in various cosmetic supply stores and I always just passed right by it.  I even thought it kinda resembled a dog brush!
But, when I was asked to try it out I had a closer look at the TT and all of the buzz out there actually got me curious.
Firstly what is the Tangle Teezer?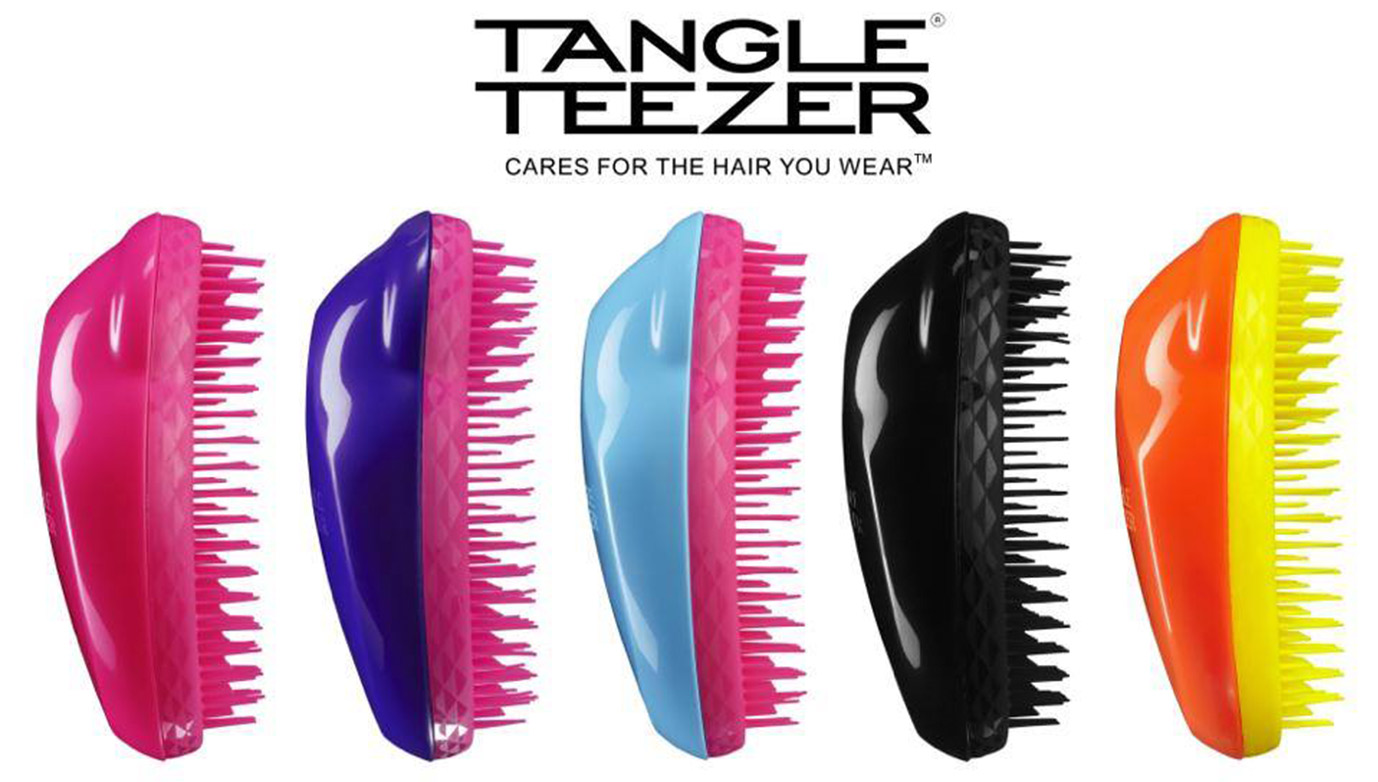 On the TT website it is described as "a professional detangling hairbrush that is loved by hairdressers and used in professional hair salons. It's a super smooth operator that works the minute hair is lathered and rinsed. Glides through wet, vulnerable and colour treated hair with no pulling, tugging or yanking."
Some key points about the TT:
*innovative teeth configuration for dual action, effortlessly detangling
*memory flex technology, gentle on wet and dry hair
*Unique centralise concave delivers optimum results from roots to ends
As soon as I was asked to review the Tangle Teezer I saw it popping up everywhere.  One of my assistants had it in her hair kit and she raved about it.   I was doing hair and makeup for a video shoot with actress Elisha Cuthbert and her sister Lee-Ann.
Lee-Ann sat down to have her hair done and had a Tangle Teezer in her hand.  I immediately asked her what she thought about it.  She gushed about the TT as if it were her new boyfriend!   She claimed that it's the only brush that goes through her hair when wet and how she'll never go back to using a traditional hair brush.  So needless to say I was intrigued and could not wait to try my TT.
I tried the Tangle Teezer on myself and I thought it was…well just OK.  Now I need to back that up with the fact that I rarely brush my hair and my hair usually never tangles or gets in knots.  Knowing all that I felt I wasn't an ideal person to test the Tangle Teezer.   I needed to take this review to a tougher critic so I thought who better then my adorable niece Ruby!
Ruby is 5 going on 30!  She loves it when her Auntie Nee Nee (me) does her hair but she hates when I have to brush it.  Like most active 5 year olds Ruby's hair easily tangles and as soon as I try to pull a brush through it she starts to squeal in pain.  Her favorite hairstyle for me to do is 2 braids that join together to one at the back of her head-we have appropriately called this style-'The RUBY'!  I told her I wanted to do 'The Ruby' on her and that I wanted to try out a new brush.  As soon as I pulled out my bubble-gum pink Tangle Teezer her eyes lit up seeing as pink is her favorite colour.  She then sat there as I brushed her hair and I couldn't believe it!  It never once caught on her hair and Ruby sat there calm as can be.  I was very impressed and of course Ruby loved her final look!
I would have to conclude that The Tangle Teezer brush has a little bit of a learning curve to it and it needs a little trial and error to find what works best for you and your hair.   I would encourage everyone to at least try the Tangle Teezer for themselves-its definitely worth exploring.   The Original Tangle Teezer is available at Nail Polish Canada for the affordable price of $14.99 and it comes in 5 exciting colours.  And Nail Polish Canada offers free shipping within Canada and there are no minimums.   Happy Shopping!
XO J9